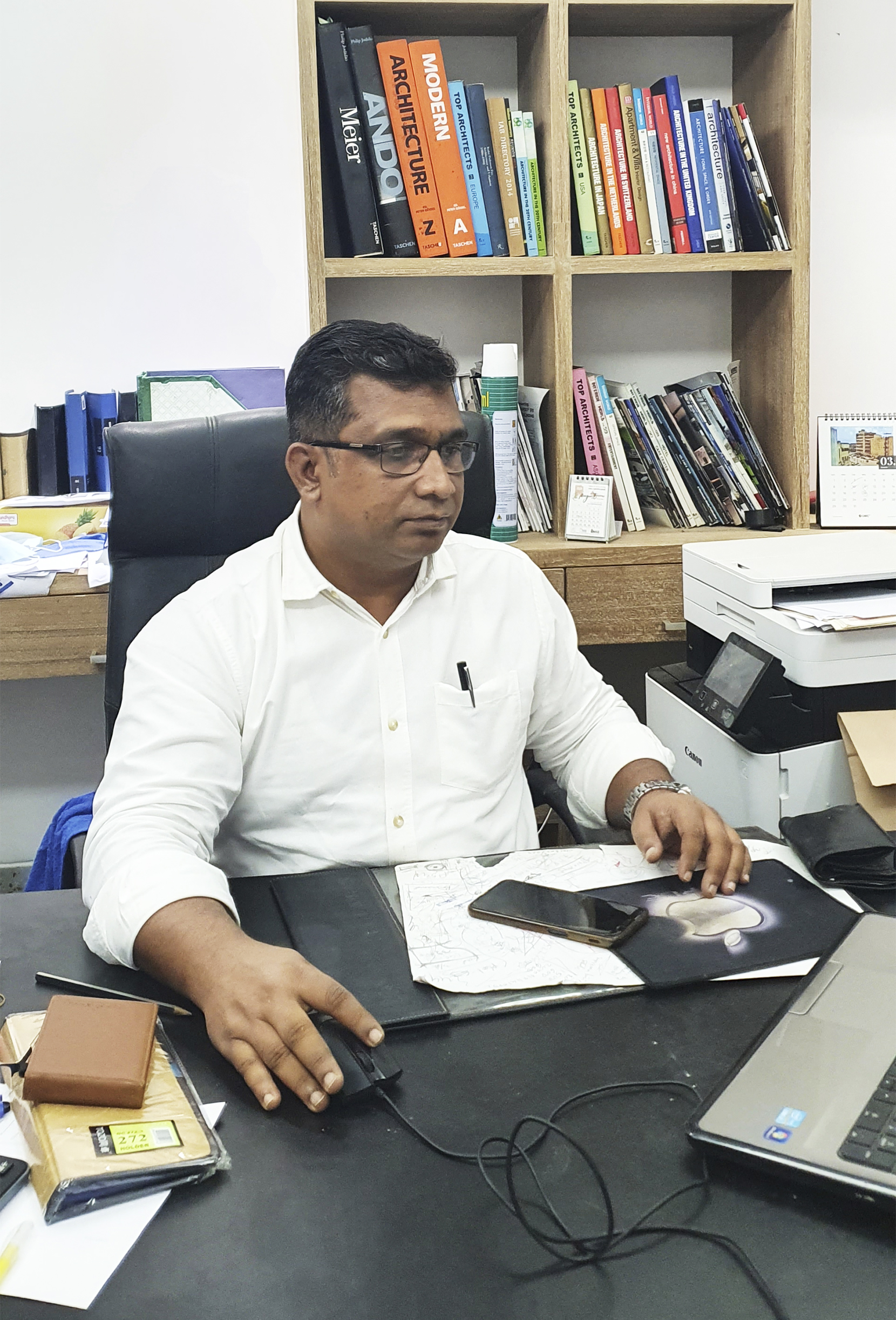 Md.Habibur Rahman Khan
Managing Director
Our Management
Architect Md. Habibur Rahman Khan has completed Bachelor of Architecture from Khulna University back in 1999 with a sound academic knowledge that has been guided him through all the creative junctures of his professional life, which includes designing and constructing of numerous residential and commercial projects around the country. Mr. Khan had been experimenting his creative thinking from his student life by undertaking numerous residential apartments in Khulna city with a great fame. He traced his origin from Madaripur and home town in Khulna from where he has completed his secondary and higher secondary schooling.
After completing his graduation, Mr. Khan has engaged himself in architecture profession that brings himself the feat of designing several renowned buildings and interior projects in Bangladesh. He has established Axis Development Ltd., in 2009 with a solid motto in mind—Space for Life. Axis development Ltd., is expert in civil construction, interior design and construction, the clientele base of the firm includes, Ha-Meem Group,Nitol Motors Ltd, Nassa Group, Khulna City Corporation, IOM (International Organization for Migration)-a UN based agency, etc.
He believes Architects will focus on the aesthetics, look, feel and functionality of a structure. It is important to note that architects also have technical knowledge on construction methods and structural design. A good working relationship between Architects and other professions guaranties an effective and successful job. As he thinks every project individually and in aesthetical view point, his creations attract the sight of many media agencies that encompass, ATN Bangla (renowned and popular TV channel in Bangladesh), AnondoAlo a renowned Bangladeshi newspaper has published news in 16th December 2012 about his design experience and performances in Contemporary Architecture and Interior etc. Now, his vision is to establish Axis Development Ltd as a successful real estate, construction, and interior construction and design company.
Anindeeta Ushashi
axis.anindeeta.arc@gmail.com
Architect
Atia Iffat
atiaiffat120134@gmail.com
Architect
Afrida Sharmin
aria.ku.12@gmail.com
Architect
Nabila Haque
sajdasareen.nabila@gmail.com
Architect
Tanvir Nawas
Tanvirnawas28@gmail.com
Architect
Shohel Farazi
shohelfarazi@gmail.com
Architect
Md. Khademul Haque
axis.khademul.ce@gmail.com
Sub-Assistant Engineer (Civil)
Ibrahim Khalil
axis.ibrahim.ce@gmail.com
Sub-Assistant Engineer (Civil)
Md. Anamul Haque
axis.anamul.ce@gmail.com
Sub-Assistant Engineer (Civil)
Md. Zahir Alam
axis.zahir.ce@gmail.com
Sub-Assistant Engineer (Electrical)
Akib Nur
axis.akib.ce@gmail.com
Project Engineer
A. B. M. Owaliullaha
axis.oli.ce@gmail.com
Project Co-Ordinator
Tarek Ahmed
tahmed8989@gmail.com
Sales & Marketing Manager